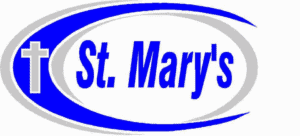 St Mary's School has been an integral part of the Sterling area since it was established in 1912. There have been many changes over the years, culminating with the construction of the current facility in 1997. Students from Saint Mary's Parish and Sacred Heart Parish attend the school as well as students from other denominations.
The integration of religious truth and values with the rest of life is brought about in the Catholic School, not only by its curriculum, but more importantly, by the presence of teachers who express this integrated approach to learning and living in their professional and private lives.
…..TO TEACH AS JESUS DID
The Catholic School system of St. Mary's offers a Christian message and faith-filled atmosphere to the St. Mary's community.
Our educational programs must develop the child of God, spiritually, physically, emotionally, socially, and intellectually.
That every child has the right to a Christian oriented curriculum, a Christian atmosphere for growth and the influence of Christian teachers.
That every child is an integral part of the system – therefore, every child needs to feel a responsibility to serve the school, and the school needs to serve the child.
With parents, teachers, and community, together we will develop the full potential of each child.
To schedule a visit or learn more, visit them at  Saint Mary's School, Sterling.