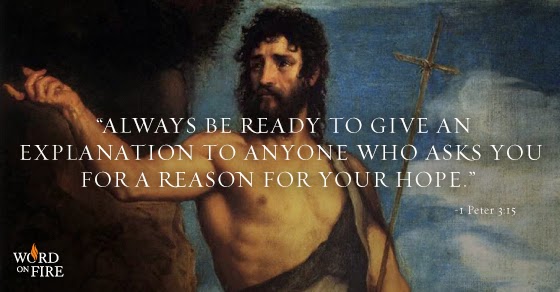 "Apologetics" is derived from the Greek root word apologia. In ancient Greece it referred to a formal defense of a belief, an explanation or argument for one's philosophy or religion. The word occurs several times in the New Testament, including sections of the Gospels, seeking to persuade unbelievers of the truth claims of the Church, especially the unique nature of the person and work of Jesus Christ.
Standing before a tribunal in Jerusalem, the imprisoned Paul states, "Brethren and fathers, hear my defense [apologia] which I now offer to you" (Acts 22:1). In his epistle to the Philippians the Apostle to the Gentiles states that one of his tasks was to make a "defense of the Gospel." Perhaps the best-known appearance of the word in the Bible is in Peter's first epistle: "Always be prepared to make a defense to any one who calls you to account for the hope that is in you, yet do it with gentleness and reverence" (1 Peter 3:15).
Catholic apologetics is the defense and explanation of the teachings, beliefs, and practices of the Catholic Church. Its goal is to remove objections, shed light on difficult or misunderstood matters, and ultimately help win minds and souls for Jesus Christ. Apologetics is the activity of helping people answer the question: "Why should I be Catholic?" It does so by engaging the mind to reach the heart.
---
Please find some helpful links below to learn more about our beautiful faith.
Catholic Answers
Dr. Scott Hahn
Catholic Apologetics Cheat Sheet